Youtube DL-GUI Downloader is a free windows user interface for the command line program YoutubeDL:
Features :
- YoutudeDL is inclued, you only need to unzip the program where you want use it, click on YoutubeDLGUI.exe to launch graphical interface.
- Update YoutubeDL, in options, click on Update and it will update YoutubeDL (not YoutubeDL-GUI).
- FFMPEG in inclued, because when downloading in HD, it can need to separatly download sound and video and recreate one video file.
- Add links to you browser personnal toolbar to direct add video to YoutubeDLGUI, add theses javascript links to the url of new bookmarks in a folder named "YoutubeDLGUI" on your personnal toolbar or anywhere you want in your bookmarks (you need to launch YoutubeDLGUI 1.3 one time before to automatically register the protocol to use this function):
"Add URL as Playlist": javascript:window.location="ydlgui:playlist::"+(window.location.href)
"Direct Download Video": javascript:window.location="ydlgui:startdownload::"+(window.location.href)
"Direct Download URL as Playlist": javascript:window.location="ydlgui:playlist::startdownload::"+(window.location.href)
And many more options like save subtitles, thunbails, save playlists, automatically check new video on playlists at startup, ...
If the video can be downloader from youtube with the message "unable to extract video data", it's because it's blocked in your country, try https://unblockvideos.com/youtube-video-restriction-checker/ to see the country where it's available and use a VPN.

Informations about Auto Update :
[Repository is now again available]
The autoupdate fonction from YoutubeDL and Youtube DL GUI don't work becauseGithub deleted YoutubeDL repository because rich people don't want you to save data and make backup.
You can update manually youtube-dl.exe :
Go where you installed YoutubeDLGUI, download last youtube-dl.exe version on https://yt-dl.org/ and replace the old youtube-dl.exe by the new downloaded version. It's recommended to save the replaced version of youtube-dl.exe , to a folder like "Old-youtube-dl".
You can find here a PDF copy of the ReadMe Github Page now deleted explaining how to use it:
Cache Version on the Web:
Download
The program is made and tested on windows 10 but it maybe can work on others windows version.
How to update from older version:
There's no automatic update for YoutubeDLGUI, you can decompress the folder where you want, and copy from the older version the "cfg" directory to the new installation dir or use in options tab the "import cfg options dir" button.
1.3 / Windows 10 (~70mb)
1.1 / Windows 10 (~70mb)
1.0 / Windows 10 (~70mb) :
Change Infos
1.3: Added function to add videos from browser toolbar javascript links
1.1 : Minors bugs fixes, more menu options, checkboxes in the list of videos to select multiple video to download.
Screenshots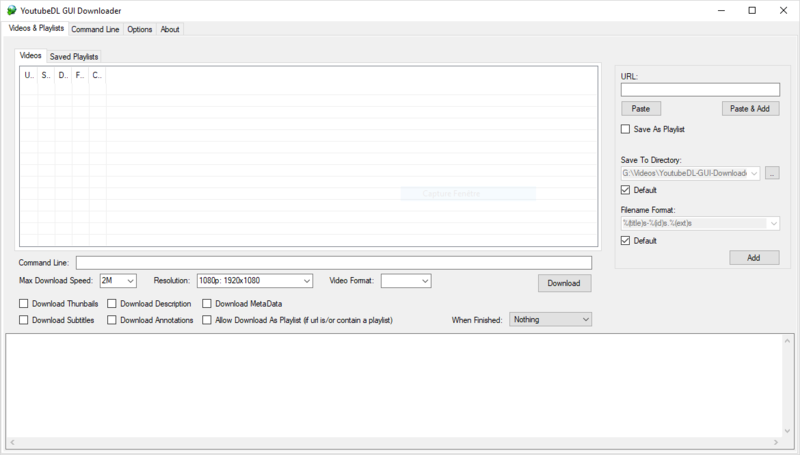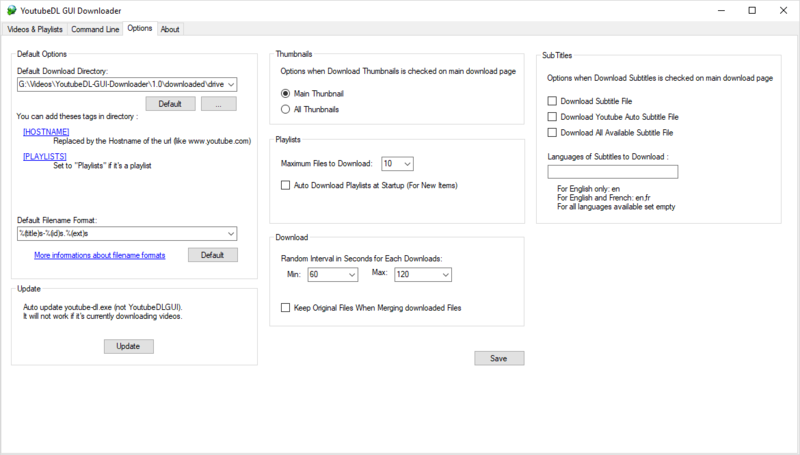 Welcome to my blog for my free addons for firefox / chrome.
Bienvenue sur le blog de mes addons gratuits pour firefox / chrome.
- Quickbookmarks - Firefox 70 and +
Easy Bookmark a page, a link, a selection of links, ...
The link will be automatically created in a folder with the name of the website in the QuickBookmarks Folder
Enregistrez un signet (bookmark) rapidement d'une page, d'un lien, d'une selection de liens, ...
Le bookmark sera automatiquement crée dans un dossier du nom du site dans le dossier "QuickBookmarks".
------------------
- Youtube RSS Feed - Firefox 70 and +
Youtube RSS Feed show in the url bar a icon when on Youtube to easy bookmark the RSS Feed of the channel and other options, because youtube don't show the RSS feed link on every channel.
Youtube RSS Feed permet d'afficher facilement le lien du flux RSS de la chaine qui n'est pas forcément affiche sur toutes les chaines.
------------------
- Copy Links Advanced - Firefox 70 and +
Easy copy links from webpages with a lot of options, like copy tag A, href, img, and many more ! Option to automatically bookmark copied links, copy tabs links, ...
Copiez facilement les liens des pages web avec plein d'options, comme copier par tag (A, href, img, etc), automatiquement mettre un bookmark des liens copiés, etc.
------------------
- Page Cache Archiver - Firefox 70 and + / Chrome

Archive and Get Archived Pages With Internet Archives Websites (Archive.is, Archive.org, Webcitation, Megalodon, Google Cache, ...). Save Page to Local File, Save PDF, Customize Menu, Options to use HTTPS or HTTP, Auto Save Tab or Window, and many more options.
Archiver facilement les pages web avec les sites connus d'archives, en fichier pdf, en local, avec des options pour les menus, sauver automatiquement les tabs, fenetres, ou suivant les urls, etc.
05 février 2021
Info: Les Addons ne sont plus disponibles sur Chrome Store parce que je les ai désactivés, en effet, google va rendre obligatoire de passer les addons au manifest V3 (https://developer.chrome.com/docs/extensions/mv3/mv3-migration-checklist/) au prétexte de la sécurité mais en fait ca empêche les addons de fonctionner en ne changeant que quelques syntaxes dans les fonctions mais ca rend tres difficile et couteux en terme de temps à mettre à jour.
J'ai autre chose à faire que de passer mon temps à updater mon addon pour m'adapter aux mises à jours pseudo sécuritaires qui ne servent en réalité qu'a limiter les fonctionnalités bien utiles des addons comme avec Firefox et a empêcher l'utilisateur d'avoir les fonctionnalités qu'il veut si google n'est pas d'accord.
Il y aussi le probleme des sites d'archives qui ne veulent pas que ca fonctionne on dirait une vitrine publicitaire pour leur faire des dons et c'est tout, archive.org ne permet pas de sauver des pages en bulk, il faut passer par leur page web à chaque fois, archive.is est de pire en pire au début ou je l'utilisais il sauvait les pages complexes comme google map, les pdf, il permettait de charger les pages en zio mais depuis plus d'un an, rien de tout ca ne fonctionne, il ne charge même pas les zip ou fichiers video des pages webs directs en lien en mp4, etc...
Quand on veut sauver plusieurs pages web il faut attendre 5mn entre chaque sinon on est bloqué, sérieusement, j'ai fait un sitemap de whale.to, avec des dizaines de milliers de pages, comment on le sauve sur ces sites parce que nombre de pages de whale.to sur le web depuis presque le début ne sont toujours pas sauvées sur archive.org qui pourtant prétend être la mémoire d'internet !
Ils n'ont pas d'options (même payantes!) pour charger des centaines de milliers d'urls ou voir un site en entier, ou pour mettre à jour automatiquement les pages, bref, je n'ai plus aucune envie d'avoir affaire avec tout ca, c'est tous le temps des problemes des qu'on veut utiliser leur site. Archive.is a même mis j'ai déjà eu le cas un captcha sur leur api alors que c'es typiquement les api faites pour les requetes par programmes / robots: http://mementoweb.org/depot/native/archiveis/
Le site archive.org prétend avoir une API qui permet de sauver les page par une requete mais en fait c'est erreur 502 à chaque fois : https://pragma.archivelab.org/ ; https://github.com/ArchiveLabs/
Le comble du comble, sur ce site on trouve une api faite pour sauver les pages web en un clique: https://robustlinks.mementoweb.org/api-docs/
Ca lance l'archivage de la page sur le site qu'on veut et retourne l'url de la page sauvée, j'ai voulu utiliser ca pour mon addon et bien ca ne fonctionne pas, archive.is renvoie du 502 à tour de bras et archive.org pareil, des erreurs des qu'on l'utilise plus de quelque fois, bref ca ne sert à rien du tout par rapport à leur page web classique. Et il est même dit en bas de la page qu'il ne faut pas l'utiliser pour créert de nouvelles sauvegardes ou acquérir des infos sur une sauvegarde alors que c'est justement les seuls fonctionnalités qu'offrent cette API :
"4. Discouraged Use Cases
We intend for machine clients to employ the Robust Links API to create Robust Links and return the corresponding HTML. Because of the functionality provided by this API, users may be tempted to employ it for purposes we did not intend. In this section, we outline some of the potential use cases we want to discourage when using the API.
If a machine client submits an original resource URL, the Robust Links API creates a Memento. This is a convenience feature provided to help users quickly automate the replacement of existing links. If a machine client wishes to to create new Mementos from original resources explicitly, then tools like ArchiveNow perform this action with more features and without all of the additional overhead.
Acquring Memento Information
The Robust Links API provides the original resource URL (in data-originalurl) associated with the Memento URL. It also identifies a resource as a Memento or original resource. If a machine client needs this information explicitly, then the Robust Links API provides unnecessary overhead. Instead, a machine client should directly query the Memento by employing the Memento Protocol. The py-memento-client Python library can help developers do this with Python applications."
Je ne parle même pas de megalodon, qui généralement refuse de sauver la page, là aussi plus de quelques pages sauvées et on est accusé de trop l'utiliser, ou alors le site a sauver est indiqué comme interdit, etc, bref toujours un bon prétexte pour refuser le service prétendument offert par ces sites de sauvegarde.
Bref, autant sauver les pages directement sur votre PC avec un logiciel qui fait un téléchargement des sites complets et voilà.
J'ai essayé de remplacer l'addon par un simple application windows mais là aussi, même pour des choses aussi simples, toujours des problemes, archive.today empeche les requetes depuis les applications, apparemment ils détectent que c'est pas un navigateur, simplement de vouloir charger une de leur page d'archive comme "http://archive.today/http://www.nomdudomaine/page.html" , et ca indique trop de connexions à chaque fois alors que j'ai essayé meme juste apres de lancer une page du site dans le navigateur depuis le même ordinateur donc la même connexion et ca marchait tres bien...
Et comble du comble, j'ai ensuite voulu faire une page html téléchargeable en local fonctionnant comme l'addon, on indique une liste d'urls à charger et on choisit les archivers et bien non, là aussi pour une simpte requete passant par la fonction fetch prévue pour ca, pour faire des simples requetes internet comme la doc des navigateurs l'indique, ca ne fonctionne pas, ca demande des sortes d'autorisations parce c'est un autre domaine !
Utiliser Fetch
L'API Fetch fournit une interface JavaScript pour l'accès et la manipulation des parties de la pipeline HTTP, comme les requêtes et les réponses.
Cela fournit aussi une méthode globale fetch() qui procure un moyen

facile

et logique de récupérer des ressources à travers le réseau de manière asynchrone
.
https://developer.mozilla.org
https://developer.mozilla.org/docs/Web/API/Fetch_API/Using_Fetch
Cross-origin resource sharing (CORS)
Le " Cross-origin resource sharing " (CORS) ou " partage des ressources entre origines multiples " (en français, moins usité) est un mécanisme qui consiste à ajouter des en-têtes HTTP afin de permettre à un agent utilisateur d'accéder à des ressources d'un serveur situé sur une autre origine que le site courant.
https://developer.mozilla.org
Fichtre, maintenant pour accéder à un domaine internet, même une simple page web il faut des sortes d'autorisation spéciales alors qu'a là base internet et tout de même prévu pour ca!
J'ai pas trouvé comment facilement résoudre ce probleme et je n'ai plus aucune envie d'y passer des heures et des jours pour que quelques temps plus tard cette fonctionnalité soient supprimée au prétexte de mise à jour et de sécurité.
Entre autre probleme, archive.today ne sauve plus les PDF (il le faisait mais à changé, ce fut les pdf uniquement déjà dans le cache de google et maintenant c'est que la page apercu d'une partie du pdf et pas tout le document), il ne sauve plus non plus les pages web 2.0 comme google maps, avant il le faisait mais à un moment donné il ne le faisais plus sans raison, la fonction de charger en zip la page toujours indiquée ne fonctionne plus depuis des lustres, bientot ca sera la fonction de sauver les simples pages web qui sera désactivée et ils se demanderont pourquoi plus personne n'utilise leur site ?!
Pareil pour archive.org, au début c'était bien, et déjà depuis qq années qu'ils ont fait apparaitre dans les archives les noms de uploaders comme des comptes, et bien ils se permettent de supprimer du contenu à tour de bras, mon compte a été désactivé sans raison, tout supprimé, alors que je l'utilisais peu, j'avais simplement fait des sauvegardes du site textfiles et sans explications tout les éléments de mon compte ont été désactivés. J'ai essayé de me réinscrire, ca m'indique tout de suite que mon email est refusé (simplement d'avoir indiqué un email) parce que ca ne leur parait pas un bon email, je ne sais plus les termes exactes mais c'était ca ! Alors que mon premier compte était mon vrai nom et prénom, ca ne leur convenait pas non plus, je trouve un email qui va et hop a peine la vidéo uploadée que c'est refusé.
Bref ils ne font que mentir sur ce qu'ils prétendent faire (sauver internet) et passent le plus clair de leur temps à refuser qu'on upload du contenu tout en préparant leur prochaine campagne de dons mensongere ou ils se feront passer pour les garant de la mémoire d'internet !
Celui qui fait ce site d'archivage de vidéos dont beaucoup ont déjà été supprimée ("troo.tube") http://s3.wasabisys.com/public-videos/index.html disait dans une vidéo sur son compte youtube que archive.org avait refusé ses vidéos alors que de ces vidéos ont déjà pour beaucoup été supprimées de Youtube et internet...
Et oui, ce mêmes ensuite demanderont plein de dons en ce faisant passer pour les garants de la mémoire d'internet alors que c'est que du vent.
Aucun grand site d'archive ne fait réellement ce pourquoi il est fait, que le minimum pour pouvoir demander des dons.
16 décembre 2020
Copy Links Advanced for Chrome & Edge
- Copy links with tags selection: A, Text, IMG, ...
- Copy links with attributes selection: HREF, SRC, LINK, AUDIO, ...
- Copy links with css selection or by select any tag or attribute
- Select Output Format: Link Only, HTML, BBCODE
- Options "Wait for Copy": Check the Menu Option, copy multiples links, in multiple webpage, and uncheck the menu option to copy all previous links in the clipboard in one time.
- Tested with Chrome & Edge
Installation
You need to enable developper mode in extension page, download and decompress the zip file of the addon (below to download) , click "load extension" and select the folder of the decompressed addon zip file.
Download
12 décembre 2020
Pour m'aider au développement des addons et autres, vous pouvez utilisez un des moyens suivant :
Partager les Liens
Partager le liens vers les pages des addons, du blog, etc sur les réseaux sociaux, sur vos sites, à ceux pouvant être intéressés.
Faire une Donation via Paypal
Parainnage
Inscrivez vous sur ces sites en suivant les indications (Liens et/ou code parainnage, un minimum de commande peut être demandé pour bénéficier de la réduction) pour m'aider temps passé au développement des addons:
Stockage de fichiers gratuits et payants.
Merci d'autoriser les cookies sur votre navigateur pour le site
1fichier.com
avant de cliquer depuis mon lien pour que l'affiliation soit prise en compte.
GreenWeez (Spécialisé Produits Bio/Ecologiques) : Créez votre compte et indiquez le code de parainnage 53EMV9CG . Vous aurez 10€ à votre premiere commande et je gagne aussi 10€.

19 novembre 2020
A propos de mes addons, il est intéressant de faire connaitre ce qui se passe en coulisse. En effet j'ai commencé par développer sur Firefox, qui prétend être alternatif, mais en réalité ils ne le sont pas du tout, pire que google peut être, puisque d'un coup deux de mes addons ont été supprimés sans aucune explications (absolument aucune), pour d'autres le fichier d'addon téléchargeable depuis mozilla a été corrompu qu'on ne puisse pas le réinstaller malgré qu'ils avaient tous de tres bonnes notes (5 étoiles) ...
Et à cela se rajoute bien d'autres problemes, tous les addons du début de firefox ont été supprimé parce qu'ils ont décidés d'utiliser une nouvelle version des API pour les addons, sans se soucier le moins du monde de ceux utilisant ces addons et sans se soucier des développeurs passant des heures à développer en général gratuitement des addons qui devaient tout refaire sans dédommagement malgré que mozilla récolte pleins de dons, et malgré les vagues de protestations envahissant les forums, là leurs utilisateurs ils n'en avaient rien à foutre...
Même un addon à été supprimé au prétexte qu'il permettait de commenter les pages web et que certains messages contenaient de la haine, voilà ou s'arrête la liberté d'expression tant vantée par firefox avec ces messages disant qu'ils veulent un web libre quand ils font des campagnes de dons, mais en réalité ils ne font que nuire.
Donc avec Firefox vous n'avez aucun choix pour installer les addons, c'est firefox qui décide.
Au tout début de Firefox, avant chrome, j'utilisais ce logiciel et j'ai eu une fois tous mes messages emails supprimés et en lancant le navigateur un message comme quoi je devais payer parce que je l'utilisais toute la journée sauf que c'était censé être un logiciel gratuit et au début firefox était sponsorisé par google, et j'étais sur une page google, apparemment légitime vu l'adresse.. Ils se sont donc permis des le début de nuire en mentant sur ce qu'ils font vraiment.
Et pour google chrome, malheureusement, ca devient pareil, on ne peut plus installer d'addons sauf si ils sont validés sur le site de google, et derniere en date quand j'ai voulu poster l'addon de Advanced Copy Links version Chrome, il faut maintenant certifier au sujet de l'utilisation des données personnelles, mais d'une part il n'y a pas de case à cocher indiquant que l'addon n'utilise pas de données personnelles (comme si tous les addons faisaient ca), et d'autre part, pour qui se prennent ils à faire la morale alors que jamais les utilisateur de Chrome ne sont vraiment informés de toutes les données qui sont envoyés à Google, le moindre de vos clicks est envoyé à google en réalité ! Pourquoi avant d'envoyer ces données, n'y a t il pas une demande d'autorisaton indiquant aussi les donnés qui seront envoyées ?
Développer des addons est terriblement ennuyeux, on n'a pas idée, par exemple Firefox utilise presque la même API de Chrome mais ont décidés de remplacer le mot chrome dans le code par browser, donc en fait à chaque fois qu'on appelle une fonction des Addons du browser (donc quasiment à chaque ligne de code), si on veut faire un addon pour l'un et l'autre il faut passer son temps à faire deux versions différentes juste en changeant un mot par un autre (et donc ca peut faire des milliers de ligne de code...).
Ou encore une fois il y a eu un changement sur chrome non documenté, j'ai du passé des heures à trouver comment contourner le probleme, il fallait juste changer là aussi un mot dans une fonction pour sauver les options des utilisateurs...
Et bien souvent je passe la plupart de mon temps à essayer de résoudre des petits problemes comme ca tres ennuyeux au lieu de développer les fonctions utiles de l'Addon, donc je pense que je ne vais pas continuer de développer des addons puisque c'est tres ennuyeux, tres chronophage (ca peut être plusieurs jours de suite à temps complet), et en plus firefox, chrome, etc se permettent sans cesse de revenir sur les addons même déjà publiés pour trouver des prétextes pour les invalider donc à quoi bon se casser la tête à les faire valider puisque les validateur considèrent eux même que leur validation n'est pas valable et reviennent dessus ensuite au prétexte de la sécurité ?
Ou encore par exemple pour mon addon pour sauver les pages web, j'ai passé des heures à développer la fonction de sauver les liens des pages et les screenshot de la nouvelle version de sauvegarde de archive.org, pour qu'une fois publié ils suppriment cette fonction et la réserve à ceux ayant un compte sur archive.org ! Ce célèbre site abuse beaucoup maintenant, il y a des années j'avais un compte mais il a été complétement supprimé sans raison, sans préavis (bien sur ca n'était pas du piratage mais des élements de différents sites en libre accès, des pdf, etc). Au début c'était tres bien, mais ils ont commencé de nuire en suppriment l'upload par FTP, alors que c'était plus rapide et plus sur par FTP, quand j'ai du utiliser le formulaire web, ca plantait souvent, je devais tout recommencer alors que ca ne faisait pas ca en FTP.
Quand j'ai voulu me réinscrire, ils refusaient tout de suite ce que j'uploadais sans raison, ou une autre fois ils refusaient directement l'email disant que l'email n'était pas comme il fallait (?!), bref on est censuré sur ce site rien qu'avec l'email qu'on utilisé (même avant validation, simplement le du fournisseur hote d'email ne leur plaisait pas...)
Ou sur l'autre site archive.today, maintenant la fonction de télécharger en ZIP depuis le bouton au dessus d'une page ne fonctionne plus depuis des années, pour sauver un PDF il passe généralement par le cache PDF de google donc si google n'a pas le cache pdf il ne sera pas sauvé sur archive.today même si le PDF est accessible sur le site que vous voulez sauvez, de même que les pages complexes ne marchent plus, au début google map était bien sauvé mais ensuite ca ne marchait plus du tout.
Et derniere en date qui m'a fait arrêter de développer l'addon, j'ai trouvé pour vérifier qu'une page était déjà sauvée sur le site l'API du site suivant, ca utiliserait beaucoup moins de bande passante au lieu de charger la page dans le navigateur mais les deux fois ou j'ai essayé cet API, alors qu'en plus je n'avais pas utilisé le site depuis des heures, ca m'indiquait une page avec un capcha comme si j'étais un robot alors que cet API est faite pour les applications, donc les "robots", si on est un utilisateur normal on visite le site par ces API: https://mementoweb.org/depot/native/archiveis/
Megalodon est pareil, pas fiable, souvant les pages sont indiquées ne pas être chargée pour telle ou telle raison, (robot, ip interdite, domaine bannis), bref aucun intêret pour sauver les pages web puisque tout semble prétexte pour refuser la sauvegarde, et au bout de quelques pages souvent ca indique qu'on a sauvé trop de page et l'on est bloqué (même pas une dizaine pour moi généralement), comme webcitation qui ne permettait de ne sauver qu'une centaine de pages et ensuite bloquait, comme si préserver les pages web d'internet était possible en quelque dizaines de pages, ca ne rime à rien. Et même archive.is ne me permet de sauver qu'une dizaine de page suivant l'ordi que j'utilise, j'ai essayé plusieurs navigateur sur un et toujours le même blocage au bout d'une dizaine le site ne répond plus et sur l'autre avec la même connexion par contre aucun probleme, je peux en sauver des dizaines sans probleme...
Les débuts du web ou le partage, la bonne entente et la coopération étaient la règle sont bien loins...
05 mars 2020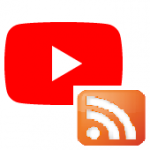 Youtube RSS Feed permet d'afficher facilement le lien du flux RSS de la chaine qui n'est pas forcément affiche sur toutes les chaines. L'addon est en anglais mais tres simple, voir les explications ci dessous:
Cliquez avec le bouton droit sur l'icone qui apparait dans la barre d'adresse si vous êtes sur youtube, dans le menu options cochez ou non le menu pour l'activer lors du clique sur le bouton dans la barre d'adresse, utilisez le menu avec "Quick" au début pour effectuer cette action une fois.
- Open RSS Feed : Ouvre la page du Flux RSS dans le navigateur
- Bookmark RSS : Met un bookmark du Flux RSS
- Bookmark Channel : Met un bookmark de la page principale de la chaine
- Bookmark Video URL : Met un bookmark de la video
L'addon créera un dossier dans les bookmarks suivant le type de liens que vous ajoutez (le flux RSS dans "Youtube RSS", la chaine dans "Youtube Channels" et les videos dans "Youtube Videos").
Vous pouvez ensuite déplacer les dossier ou vous voulez comme dans la barre personnelle (sous la barre d'adresse), ou créer un dossier principal par exemple nommé "Youtube"' ou vous mettez les dossier crées par l'addon.
Dans "options", le menu "disallow youtube redirection" empêche les urls de rediction de youtube quand vous cliquez sur un lien et charge directement le lien.
Télécharger :
Copies d'Ecrans :
Logs:
1.3
- Ajout de l'option pour stopper les urls de redirection de youtube et directement charger le lien.
- Les options pour le menu sont enregistrées pour la prochaine session
- Ajout de l'option pour sauver les urls des videos.

1.2
- Ajout du menu pour choisir l'action quand on clique et des menus actions rapide avec un clique droit sur l'icone.


18 janvier 2020

QuickBookmarks allow to save a bookmark easily, it will make a bookmark in the bookmark folder "QuickBookmark", the bookmark will be in the subfolder named like the hostname of the url.
You can move the folder "QuickBookmark" anywhere in the bookmarks, like in your personnal bookmark toolbar. You can save the url of links, tab, image, frames, etc.
Download below at the end of the article.
------------------------------------
Il n'est pas traduit en francais mais est tres simple d'utilisation. Lorsque vous enregistre un bookmark pour la premire fois, il créera un dossier "QuickBookmark" dans les bookmarks, vous pouvez ensuite mettre se dossier ou vous voulez comme sur votre barre personnelle (sous la barre d'adresse) pour avoir un acces rapide.
Chaque bookmark sera dans un dossier du même nom que le nom du site, si vous mettez un bookmark pour la page www.example.com/dossier/page.html, le bookmark sera dans "QuickBookmark / www.example.com / titredelapage
Download / Téléchargement :
Share:
ScreenShots:

13 janvier 2020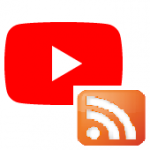 Youtube RSS Feed show in the url bar a icon when on Youtube to easy bookmark the RSS Feed of the channel and other options, because youtube don't show the RSS feed link on every channel.
Options to select the actions to do when a click on the button (right click in the button to set the options):
- Open RSS Feed
- Bookmark RSS
- Bookmark Channel
- Bookmark Video URL
It will create a bookmark folder for a type of bookmark (RSS in "Youtube RSS", Channels in "Youtube Channels" and videos in "Youtube Videos"), you can move the folders anywhere in your bookmarks, like in your personnal toolbar (under adress bar toolbar) for easy access.
Download :
Screenshots :
Change Logs:

1.2
- Add menu to right menu to choose action when click and quickaction: Open Rss Page, Add Bookmark for RSS, Add Bookmark for video channel page.


1.3
- add option to menu to stop youtube redirection when clicking links, it will load the link without loading youtube redirection url
- options set with menus are new saved
- add option to save youtube video url in bookmarks folder Youtube Videos
Cette addon a été supprimé de Chrome Store parce qu'ils vont forcer à passer au Manifest 3.0 et de toute facon les anciens addons ne seront plus compatibles, ca me demanderait trop de temps de changer nombre de fonctions (dont les fonctions réseau pour charger les pages, tester si elles ont déjà été sauvées, etc) de l'addon parce que Google a décidé de changer la syntaxe de certaines fonctions pour faire croire que c'était pour la sécurité, et comble du comble des fonctions indispensables comme avoir les infos du tab dans lequel un script est injecté (utilisé par mon addons pour savoir quel est l'état de la page par exemple, en train de sauver, terminé, etc) seront apparemment supprimées aussi... Leur but semble étre en réalité de ne plus permettre aux utilisateurs de pouvoir choisir quoi que ce soit (Et oui vous ne revez pas google ose faire la morale sur l'acces aux données utilisateurs, dans les infos sur le manifest V3 ils osent meme dire que les fonctions réseau de l'addon donne un acces excessif au données utilisateurs, résultat un addon ne pourra plus rien faire, les outils de blocage de scripts et de pubs seront bien sur impactés...).
Download Addon Source File :
Pour installer cet addon, il faut activer le mode developper dans les pages des addons/extensions (compatible avec les navigateurs Chromium comme Edge), dézipper le fichier dans un dossier et charger ce dossier dans le navigateur depuis le bouton pour charger un addon localement une fois le mode développer activé.
Attention: Ce code n'avait jamais été prévu pour etre disponibles à tous, il est difficile à comprendre et n'était donc pas prévu pour être modifié par d'autres, mais pour l'utiliser il suffit de le charger dans le navigateur comme indiquée ci dessus.

Archiver facilement les pages web avec les sites connus d'archives, en fichier pdf, en local, avec des options pour les menus, sauver automatiquement les tabs, fenetres, ou suivant les urls, etc.
Exemples d'options :
- Sauver un fichier ou une page localement
- Sauver ou voir les pages archivées sur archive.org, archive.is, webcitations.org, megalodon.jp, google cache, gigablast.comou tous en meme temps, depuis la version 1.4.6 les pages sauvées sur archive.is et megalodon sont automatiquement mises à jour si elles existent déjà.
- Depuis la version 1.8: Ajoutez votre propre service d'achive si compatible.
- AutoSave Tab: Activer le menu et le tab selectionné sera automatiquement archivé suivant les options choisies dans la section correspondante des options.
- Sauver un lien dans une page, une image, une frame, etc.
- Selectionner du texte sur une page et sauver tous les liens sélectionnés, même les liens en texte sans tag A.
- Menus et différentes options pour choisir les sites d'archives à utiliser
- Options pour personnaliser les options de sauvegarde avec un masque d'URL comme http://www.website.com/* pour sauver toutes les pages de www.website.com
- Vérifier une page ou un lien sur http://timetravel.mementoweb.org/
- Options pour sauver automatiquement un bookmark de la page lors de la sauvegarde d'une page.
- Sauver les videos en un click.
- Rechercher le texte selectionné dans une page sur archive.is, archive.org, search.yacy.net, gigablast.com,etc.
- Sur une page 404, il suffit d'utiliser le menu pour voir la version en cache du site d'archive que vous voulez.
- Utiliser votre propre script Javascript pour sauver les page

- Article: https://www.ghacks.net/2017/06/06/archiver-menu/


Moteur de Recherche personnalisé pour chercher dans différents sites d'archives (archive.org, sites web, archives de pdf, de livre, de journeaux, etc) utilisé par la fonction recherche dans le menu de l'addon:
Faite une Donation:
Si vous voulez télécharger localement un site en entier, utilisez par exemple le logiciel HTTrack:
Envoyez le lien sur les réseau sociaux ou ailleurs de la page de l'addon:
Version Chrome:
Version la plus récente (2.0.5) :
Télécharger :
- Version: 2.0.5
- Version: 2.0.0
- Anciennes / Autres Versions :
Versions :
Version 2.0.5
- solved problem with autosave urls and detection of archive.is already saved page option
Version 2.0.4
- problem with autosave urls and check if already archived: some pages done were not removed from the list
- problem with autosave urls on archive.org and urls with ?= solved
- when archiving to archive.is loading page will NOT be loaded until fully saved to save bandwith, it will display a simple loading state page
- when saving a video, the file will be in Defaut Download folder / Archived Videos / www.hostname.com / file
- when saving a video and option save webpage with video activated, the page will be saved in the same folder than the video in mhtml
- desactivated menu by defaut to save to webcite and to archive.Is Zip because the functions don't work on the website since months
- add menu to save screenshot of visible area of active page, it will be saved to same folder of the webpage in PNG.
- add random timout when saving to megalodon.jp to avoid robot protection
- research changed, now open new page and search by defaut on a google custom search engine with mulitple archive websites
- Save to Pdf enabled again on a new website
Version 2.0.3 (23/03/2020)
- changed defaut icon format for chrome compatibility
Version 2.0.2
- removed debug popup from savevideo page
Version 2.0.1
- options to set archive.is domain to use
- fixed memento problem with some date/time
- fixed a problem with frames when saving to local mode
- add option in archive page when saving a page to block loading of image and object to save bandwidth (always actived when using autosaveurls)
- add options to use new archiveorg save system [archive.org removed for non members the possibility to save links and screeshot of the page before release of this update !]
- changed defaut icon & add option to change the toolbar icon
- problems in some case of Auto archive resolved
- options to reuse tabs already opened for archiving set to true by default
- more options added to save from bookmarks and now work from "view all bookmarks" window (firefox) [Firefox version is not available for this release]
- save selection of links from a local file opened in browser now work
- bug resolved in some case with autosavetab options, opening multiple windows if not necessary
- when saving to local, it will try to get the files in the css (url: background, fonts, etc)
- solved a problem with reuse of tabs when button click with multiples options
- when saving to local file , the cache option to get the file from server is now set to default instead of none
- when saving to locale file a webpage, changed how long filename are truncated for better compatility with very long filenames
- in autoarchive, local file will not be saved (if you set *.pdf to save, a file like file:///localdisk/folder/data.pdf will NOT activate autoarchive options)
- problem with urls with parameters (?=xxx) when detecting urls for autosave or saving to local file, urls with ?= are detected (if you set *.pdf urls for autosave, urls like *.pdf?=xxxx will be detected )
- when saving to local, bug solved when problems with certains urls caused files not saved to local file
known problem: when using save to local file, sometimes some files are still not saved with the correct extension, but the parameter send to the download function is ok
- changed defaut video downloader, video download can take 10 sec or more to automatic download file
- save links popup updated with more options to save links
- in search, added a custom google search engine searching on archive websites (archive.org, archive.is and other like newspapers archives, pdf archives, ...): https://cse.google.fr/cse?cx=011864555441808463905:88ua9cbevzn
- add menu to save video from a link
- remove option to save pdf, the website is no longer really free (allow now only 5/6 urls only)
Version 2.0.0
- updated for google chrome compatibility
- added option autosave list of url at startup in the popup of autosaveurl
- when getting local cache, it display the local url of archived files for the host too
- with chrome, the get local cache menu will open directly the local folder in the browser
- resolved problem with save video and problem with url parameter of the video
- default domain for archive.today set to archive.is
- in firefox, save selectedlinks with selected text in textarea works
- add options when autosave list of urls to save only urls not already archived (use to add only new articles from rss/homepage or only new pages from sitemaps)
- with autosave list of urls, no images or big data (object, etc) will be loaded in browser page, to avoid bandwith usage (it's does not change the archived page on the archive website, it will be saved normally)
- resolved problem with add links without popup: the last urls of links and first of already saved urls in autosave list are now separated and saved correctly
- add options to add list of urls to save at startup like using "save links without popup" menu (if there's frames in the webpage, frames will be loaded and links of the frames added too ).
- add save links for a link (when click on save Links of Link, the linked url and the links in this linked webpage will be added to autosaveurls list)
- added menu to open sitemap.xml of the website of the page (in autosave menu)
Version 1.9.9
Released Jun 27, 2019 - 672.8 KB
Works with firefox 68.0a1 and later, android 68.0a1 and later
- add option to not display any notification when auto save urls list
- add option to autosave at startup for auto archive urls in options
- get cache from local in get page cache menus
- changed yacy search server to yacy.searchlab.eu
- when save a page to local if a video from a VIDEO src or source tag is downladed it's shown in downloads (to cancel if needed)
- better support when local download for tags source and srcset
- add option in autosave urls to save bookmarks or not only for autosaveurls ( by default: it will not save bookmarks for autosaveurls)
- when an opened webpage is saved to local file ,it will use the source code of the current visible page and not reload from server (known problem: the headers will not be saved)
- when save to local file with websitemode, the protocol (http,https,...) is added to filename
- when a file is save to local , the search terms (the parameters "?=" ) are added to page filename
- when bookmarking main url, the host name is not in the title because its already the folder name
- saveitoffline replaced by keepvid, because server is down
- firefox privacymode: if allow private mode not allowed all downloaded files for html pages will be shown in downloads
- added website save mode for frame
- when a url for autoarchive is set in options, use CTRL or mouse right click when saving the url will use the normal menu (in contexte menu and toolbar icon menu) and not use the predefined set for this url
- save to pdf use an external website to automatically save the pdf to local file in defaut folder (download will be shown in downloads list of browser)
Version 1.9.8
Released Mar 22, 2019 - 541.25 KB
Works with firefox 63.0 and later, android 63.0 and later
- add information on the saved local page (original url, saved date time, etc)
- add websitemode to save page to local file: the main folder will be the website domain and it will not save a copy of each needed file of a page for each page but do like in the website, and links of the page will by defaut set to the local saved page url (even if no local file is saved now, but you can save it later), it will be save in "defaut download folder / Archived Websites"
dont use it if you want easily share page, use save to local file classic mode instead
- solved bug with some pages (and integrated frames) when saving to local file
- add save to archivezip & websitemode to save list of urls
- defaut domain of archive.is set to archive.today
- added save archiveis zip and websitemode to save tabs options
- added autostart option in autosave menu: when checked, it will automatically start the archiving of the urls when opening browser
Version 1.9.7
Released Jan 20, 2019 - 538.83 KB
Works with firefox 63.0 and later, android 63.0 and later
- New option to set a shortcut key for toolbar button action
- With archive.is new option to save to local file the zip of archived page of archive.is
- New menu to save to archiveis and download automatically the zip archive file made by archive.is
- Better compatiblity with archive.is others domains when automatic redirection
- When a local archived page need files (like pictures, stylesheet, etc), the page will now be in a folder of the name of the main htm file and the others files in subfolder (before only needed files where in subfolder) to more easily share the saved page and the file needed to render the page, just copy the folder where is the html main file
- New menu to save selecteds links without popup like all page links
- Tab of archivers now open next to the archived page tab
Version 1.9.6
Released Nov 7, 2018 - 534.42 KB
Works with firefox 63.0 and later, android 63.0 and later
- Solved bug with bookmark autosave with some options configurations.
Version 1.9.5
Released Oct 4, 2018 - 534.29 KB
Works with firefox 63.0 and later
- minimum version of firefox set to 63.0
- removed pdf options: changed to autoarchive option to set preference for any url type
- changed url bookmark name: Archived URL is now at the end of the title (to search in bookmarks for archived urls, juste use "archived url" with your search words)
- add archiver menu to bookmarks
- fixed some problems with url protocols
- added wikiwix to get page cache
- in bookmarks, when bookmarking a page and the original page url is already bookmarked, the archived(s) url(s) are bookmarked just after the original page url.
- in bookmaks urls original urls page is titled with (Original) at the end and urls or archives with (Archive)
Version 1.9.4
Released Aug 30, 2018 - 407.74 KB
Works with firefox 58.0 and later, android 58.0 and later
- Fixed some minor translation errors
- Add options to use multiple action when click on toolbar button
- Add naver to get cache
- Add option to add urls to auto archive
- Add aliexpress partner link
- Add option to select pdf extension file
- Add option to auto save pdf when opened in browser
- Add option to save pdf files to special directory to easy find them
- Added date and url to source page or page saved to local file
- Add menu to save all tabs urls from a window
- Changed option page design
- Add option to save links of page without opening the popup
- Resolved problem with auto bookmarks when a bookmark cause an error now it continue to save other bookmarks
Version 1.9.3
Released Jun 27, 2018 - 443.17 KB
Works with firefox 58.0 and later, android 58.0 and later
- custom save video url can be set to local app protocol (other than http/https)
- added save page links menu for frames
- added save page links for selection
- added ebay with partner link in menu and option to use automatic partner link when navigate on ebay website
- added share menu options
Version 1.9.2
Released Jun 17, 2018 - 424.18 KB
Works with firefox 58.0 and later, android 58.0 and later
- bug solved with some browser button menu items not working
Version 1.9.1
Released Jun 15, 2018 - 424.07 KB
Works with firefox 58.0 and later, android 58.0 and later
- start code change for compatibility with google chrome
- bug solved when the only option to bookmarks was set to get cache, the url was not saved
- bug solved google text not shown when using custom archivers options in some case
- bug solved when using save page links on page with frames: it opened a popup by frame
- added goodgopher / webcite / megalodon.jp to search menu
- add option to show/hide save video/audio menu item
- add save to local option to autosave tab and custom archivers
- save page links compatible with text only links (in a sitemap for sample)
Version 1.9.0
Released Jun 8, 2018 - 355.84 KB
Works with firefox 58.0 and later, android 58.0 and later
- add options to save pages and files to local file
- add option to disable https for the session only
- add option to save a list of urls in AutoSave Menu
- add otion to save a bookmark when getting cache page
- pdf options by defaut to all archiver and to local
- save to pdf menu moved to save page group menu
- added more options to select displayed menus
- bug with encodeuri/decodeuri and malformed urls: now if a url is malformed, encode/decode is skipped instead of making error
- added Arquivo.pt to list of archivers to get cache
- added search menu to normal menu, select an archiver in menu and when click it will display a text to search, if a link is selected, it will search for the displayed text of the link
- when using autosave urls list, when the final archived page is loaded in browser, the page stop load in browser to save bandwith
- in option page, added button to save to txt the list of urls archived for this session (it save the original url, not the archive url on archive website)
- search menu icon: https://www.iconfinder.com/icons/118797/search_system_icon
- icon for menu save page links: https://www.iconfinder.com/icons/71801/delete_link_icon
- icon for file menu: https://www.iconfinder.com/icons/326639/download_file_icon#size=512
Version 1.8.0
Released Apr 10, 2018 - 245.62 KB
Works with firefox 58.0 and later, android 58.0 and later
- changed name to "Page Cache Archiver"
- add option to add custom url for archiver or other service
- added exalead to get cache
- added memento to get the most recent page cache from archivers
- when encodeuricomponent NOT enabled for a host, it use decodeuricomponent for the parameter
- bug solved: when saving a page of archiver to another archiver, the autoupdate don't work
- internal code change and simplifications
- use of http://favicon.yandex.net/favicon/ to display user added archivers favicon
- added autosave tab and autosave window to options for toolbar button
- bookmark name of archivers pages use hostname of archiver instead of a name
- minimal version updated to ff58
- changed menu name in english to shorter name for more visibility
Version 1.7.0
Released Mar 1, 2018 - 229.14 KB
Works with firefox 57.0 and later, android 57.0 and later
- menu option to display archivers menu like sub menu
- autosave work with frames: when only a frame change and not the tab url, it save the new frame url
- added options to customize file extension like pdf
- webcitation defaut email set to: webcite@email.com
- pdf option now work with save selection context menu
- add save to video/audio menu option to toolbar button options
- added option to save on script for frame
- added menu save to all for selection
- bug solved: with autosave autosaving a frame loading in the page like youtube embed player in some case
- bug solved: when saving archived page bookmark, it saved the url to save the page instead of the archived page
- bug solved: with selection of archiver, script was not launched if selected
- bug solved: for some urls, encodeuricomponent needed but not work with saveitoffline and archive.org
- changed menu names in french (more visibility)
- new icons:
- https://www.iconfinder.com/icons/7587/adobe_file_pdf_icon
- https://www.iconfinder.com/icons/282462/script_icon
- https://www.iconfinder.com/icons/34637/archive_icon
- https://www.iconfinder.com/icons/40681/archive_icon
- https://www.iconfinder.com/icons/40881/video_icon
- https://www.iconfinder.com/icons/49273/page_web_icon
- https://www.iconfinder.com/icons/10447/chain_link_web_icon
- https://www.iconfinder.com/icons/64917/selection_transform_icon
- https://www.iconfinder.com/icons/3719/image_icon
- https://www.iconfinder.com/icons/1084546/frame_notification_icon
Version 1.6.0
Released Dec 28, 2017 - 101.41 KB
Works with firefox 57.0 and later, android 57.0 and later
- Added option to save custom url
- Added pictures to menu
- Save bookmark now in folder host name
- In the bookmarks, when saving multiples urls, the archiveds urls of a url are directly below the url
- Save custom script option to work with frames, links, images, selection
- Option to save page in pdf , option added to button click defaut action
- Https allowed for webcitation (check browser https status for more infos)
- Minimum version of firefox changed to 57.0
- New option page design
- Added submenu to tab-strip
- Changed bookmark name display: when a url is used as name for bookmark (like with save link), it dislay the path without the hostname
- Fixed some bookmark title problems
Version 1.5.0
Released Sep 16, 2017 - 41.07 KB
Works with firefox 52.0a2 and later, android 52.0a2 and later
New Menus Options:
- get cache from custom archivers
- get cache from selected links
- save selected links to custom
- options to select archivers displayed in menu
- toolbar button option get cache from x archiver
- save video option changed to customised archivers
- new function to reuse tabs already opened by extension instead of create new on each time
- bug fixed : defaut folder for archived url now is NOT created when all options to bookmarks urls are set to false
- archiving of page maybe speeder in some case with big page and/or slow connections for archive.is and megalodon when auto updating/saving page
Version 1.4.9
Released Aug 17, 2017 - 38.32 KB
Works with firefox 52.0a2 and later, android 52.0a2 and later
- Minors Changes in Menu name for Memento
- Save Video now in save page menu group
- Get page cache menu displayed for the page main url when click on a frame and not only for frame
- corrected a bug with bookmarks and script in some rare situations
- Auto update of archived page on archive.is and megalodon now more speed.
- New Autosave Fonction: Select "Autosave" on a tab from menu and when the tab url change, the new page will be automatically saved to archivers selected in options for "autosave". But it don't work with frames currently.
Version 1.4.8
Released Jul 25, 2017 - 34.49 KB
Works with firefox 52.0a2 and later, android 52.0a2 and later
- Better compatibility with frames for menu "save selected links to"
- Menu to save page open too when click in a frame
- Memento link now in "get cache from" menu
Version 1.4.7
Released Jul 13, 2017 - 33.66 KB
Works with firefox 52.0a2 and later, android 52.0a2 and later
- Add option to add launch of custom script when saving main page (don't work with links, images, selected links, ...)
Version 1.4.6
Released Jul 8, 2017 - 32.47 KB
Works with firefox 52.0a2 and later, android 52.0a2 and later
- Archive.is now autoupdate to save the last version of the page
- Megalodon automatically save the page now and not only open the page to save it manually
Version 1.4.5
Released Jul 4, 2017 - 31.28 KB
Works with firefox 52.0a2 and later, android 52.0a2 and later
- Select text on the page and save all the links and even urls in the text without A tag.
- Menu and Options to Select the Archivers to Use to Save Webpage.
- Menu for "Saveitoffline" now display on the webpage and not only when click on media player.
- Added Javascript "strict" mode.
Version 1.3.4
Released Jun 20, 2017 - 26.75 KB
Works with firefox 52.0a2 and later, android 52.0a2 and later
- Tested with Firefox 52.0a2 (It seem the only bug is the right click menu of toolbar button is not displayed).
- Option to Automatically Save Archived Urls in Bookmarks.
- Save Video in One Click With saveitoffline.com .
- Internal Code Changes.

Version 1.2
Released Jun 12, 2017 2
Works with firefox 53.0 and later, android 53.0 and later2
- Translated to French
- Added more search engine to "search" menu when a text on the page is selected
- When using "Get Cache From All", now open a memento webpage too.
- Right Click on button item open now the 4 "Save as" items, "Save to All" and "Get Cache From All"
- Some code change, maybe a little faster.
Screenshots: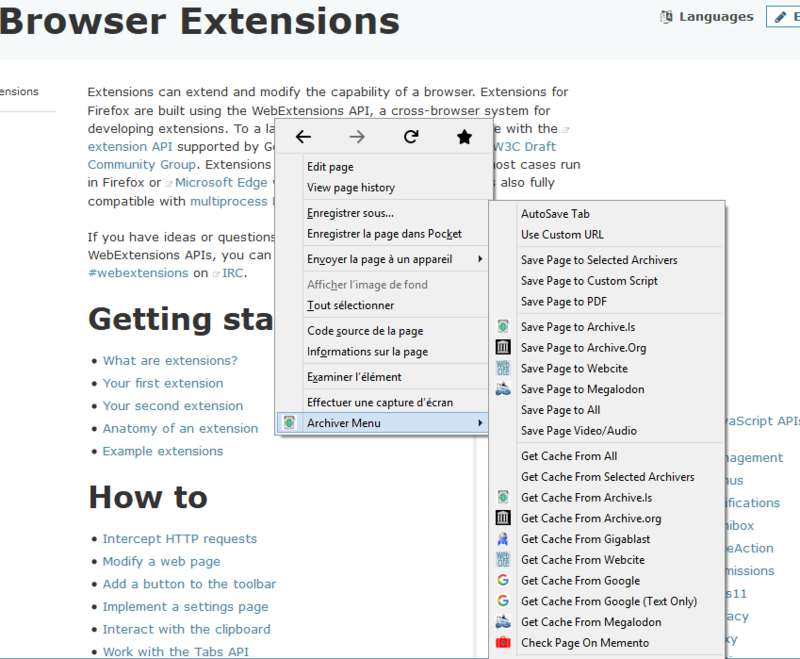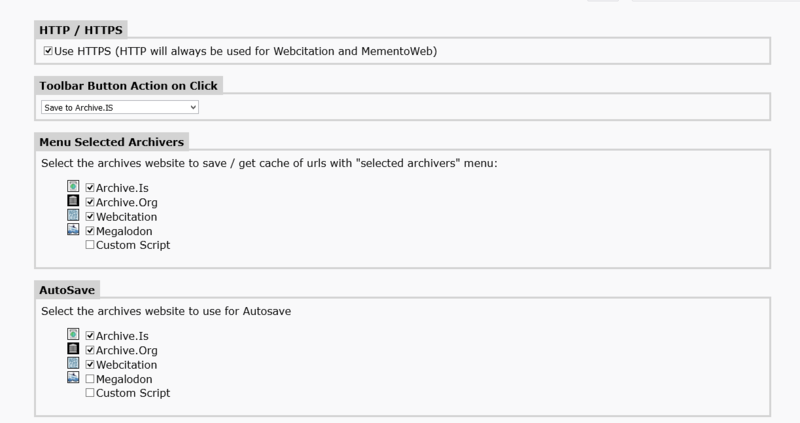 1.7 Menu Principal - Français